Nairobi city  is Kenya's vibrating heart and busiest center and getting around can be hectic especially if you dont get the right transportation means. Public means may be cheaper but not as reliable and safe as car rental services.  Getting around Nairobi really gets crazy in Matatus and boda-bodas which are the backbone of traveling in Kenya's lively city of Nairobi but for punctuality, safety, comfort and reliability,  you should consider booking one of the car rental services in Nairobi city.
Nairobi car rental services specializes in organizing guided and self drive road trips in Kenya and we are proud to present siome of the best services in 2022 frequently requested by our clients.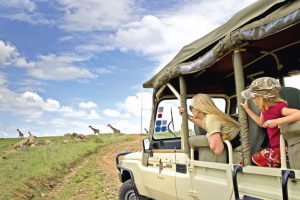 Kenya safaris– For tourists looking for a guided wildlife tour around Kenya, you can always book a full safari trip including pre-booked accommodation and activities. Nairobi car rental services organizes tailormade safari in Kenya taking you to some of the top national parks and attractions at affordable rates. Once we know which what you what to see or do , the reservations team will craft an itinerary based around that.
Self Drive – This is the best private means  of getting around Nairobi with your family or friends with guaranteed freedom since you are in-charge of the road trip to some of Nairobi best attractive spots like Nairobi National Park, The Bomas of Kenya and Kazuri Beads Factory among other must see and do things in Nairobi. Note that you should have knowledge on the location of all these attractions and the safest roads to use for easy connection. When you decide to rent a car for self drive in Kenya this holiday, get ready for a fun filled & learning road trip.
Hire a driver – Alternatively, you can hire a car with a driver to avoid getting lost here and there, hassle for parking space and getting into jam. The driver guide will have pure knowledge of the top attractions and how to get there safely and comfortably , no need to worry about fixing a mechanic problem or cleaning the car as the driver got all this covered.
Airport Transfers–  For international travelers, you won't have to start scratching your head on how to connect to your hotel or residence from the Airport and vice versa because Tristar Africa Skimmer Safaris can arrange for your wonderful airport pick up and drop off. You only have to make an early booking with us and your airport transfer will be a magical one at an affordable cost and a memorable comfort that public transport can never offer you.
Wedding Car Hire
For the love birds who already wore their engagement rings and wish to be united by a priest or pastor and walk down the aisle in front of a smiling congregation of family, friends and well-wishers, with authenticity we offer you a royal wedding transportation in classy cars ranging from mercedes benz models, Vintage cars, stretch limousines among others and they come along with a chauffeur and fuel at a pocket friendly cost.
To book any of the above car rental services in Nairobi city , simply send us an email to info@nairobicarrentalservices.com or call us now on +254-713510387 to speak with our reservations. We look forward to giving you safe and comfortable road trip around the city , parks and other destinations in Kenya.