Nairobi being the capital doubles as the largest city in Kenya with a population of 3.134 million people by the time United Nations carried their census in 2009 but getting around its 696 square kilometer land eaten up by developed infrastructures like roads, commercial and administrative buildings, schools, hospitals and hotels among others gets a bit hectic when the visitor has no idea of what type of transport to use. With proper aid from a car hire company like Nairobi car rental services, we can give you an option of hiring a car for a self drive which gives you the proper privacy and comfort or with a driver guide which also saves you from getting lost here and there then you survive the hassle of parking or driving fatigue. For Nairobi just like any other African cities, it also has its own transport means treated as the backbone of getting in, out and around the city and they include the following: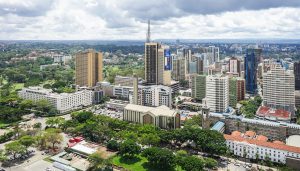 Matatu (taxi)
Nairobi is believed to be a city run by youths who upgraded the look and name of minibuses or taxis and called them "museum on wheels" with onboard entertainment, flashy lights and professional graffiti art designed on them to attract travelers. Art on the buses are mainly of iconic individuals like international pop stars, politicians, athletes and religious leaders. These taxis are the cheapest means for getting around Nairobi and they will leave with endless love for the matatu culture.
Rental Cars
For urgency and comfort, hiring a car for a self-drive or with a driver to get around Nairobi is the best option you can take provided your finance allows. They are relatively expensive compared to the matatus but comfort, urgency, privacy and reliability are guaranteed, for a group or family trip around Nairobi you can opt for a minivan with a pop-up roof, 9 seats, space for luggage and a 4×4 drive. You can rent a car in Naiobi today for business, safari or leisure road trip by simply sending an inquiry to info@nairobicarrentalservices.com
Boda bodas (Motorcycle)
Employing over 1 million Kenyans in Nairobi alone, boda bodas are the best for beating jam especially during the rush hours when everyone is hurrying to work or driving back home making the fastest, affordable and convenient means of transport in Nairobi but make sure to board a well trained rider with great obedience to the traffic rules and regulations to avoid getting into a tragic accident and make sure to regulate him. The boda boda is believed ot be the cheapest and fast means to get around nairobi but also the unsafest way.
Public buses
These buses usually travel long distances from Nairobi City to other towns of Kenya like Mombasa, Malindi, Kisumu and Nakuru among others and they further cross international borders into Rwanda via Uganda and some stopping in Uganda, Tanzania and Somalia. There are some operating within Nairobi with bus stops put in place for the passengers to wait from and each bus has a specific destination and time for departure, there are specific stopover spots for loading and offloading passengers. Fortunately, they have a standard transport fare set for each destination that all the public buses operate with accordingly.
If you plan on traveling around Nairobi and still cant decide which transport means to use, the above four should give you a hint of what to do. To inquire or book any of the above services , simply contact us on info@nairobicarrentalservices.com to get in touch with us online.