6 Days Kenya Safari Adventure
6 days Kenya safari features game drives and bird watching in three top parks namely, Lake Nakuru (flamingo home), Maasai mar and lake Naivasha. Take a look through the intinerary and get back to us to inquire or request price quote.
Day 1- Transfer from Nairobi to Lake Nakuru National Park
Our company driver guide picks you up from your hotel room, residence or Jomo Kenya International Airport after your early breakfast to be briefed about your 6 days safari in Kenya and you set off for Lake Nakuru National Park protects the salty Lake Nakuru in the rift valley of Kenya with algae attracting a variety of pink flamingoes and other bird species ashore. You will arrive at around 1100hrs for your lunch at the lodge before an afternoon game drive.
Animals like warthogs, baboons and large mammals like black and white rhinoceros introduced in a rhino sanctuary and Rothschild giraffes will be some of the game to spot. You will have an outstanding chance to watch birds like African fish eagle, Great white and Pink Backed Pelicans, Green wood hoopoes, and Cliff Chat which will grace your photographic moment and you are returned to your lodges for dinner and an overnight.
Accommodation - Sarova Lionhill Lodge


Day 2- Lake Nakuru National Park to Maasai Mara National Park
Immediately after your breakfast, the driver guide gets on the journey to Kenya's most famous Maasai Mara National reserve in Narok County in Kenya, adjoining the Serengeti National Park in Tanzania. It is named in honor of the Maasai people who ancestrally are the inhabitants of the area and their description of the area when looked at from afar: "Mara," which is Maa (Maasai language) for "spotted," a description for the gathering of trees, scrub, savanna, and cloud shadows that mark the area where you will reach around lunchtime.
You proceed for your lunch at the lodge and head out for an afternoon game drive looking out for the park's wildest game that include the elephants, giraffe, zebras, Grant's gazelles, ostrich, warthogs, wildebeest, and hyenas among others. The lions and leopards are nocturnal in nature so encountering them is unpredictable, you are most likely to view them get out from their dens to move out for their night hunt. An additional bird watching experience will give you a memorable moment of photography prior to your return to the lodge or camp for dinner and an overnight.
Accommodation options- Emayian Luxury Camp (Luxury), Mara Sopa Lodge (mid-range), Jambo Mara Safari Lodge (Budget)


Day 3- Morning Game drive
By 0600hours the driver guide together with a park ranger picks you up from your camp/lodge after your early breakfast for a thrilling and breath-taking game drive where you view the beautiful game like the elephants, giraffe, zebras, Grant's gazelles, ostrich, warthogs, wildebeest, and hyenas among others. The bird watching experience is one that you wouldn't want to miss with its photographic appeal that it gives and you return for lunch at the lodge. This early morning game drive gives you opportunity to encounter the game you missed on your day of arrival into the park.
In the afternoon you move out for a cultural walk to experience the Maasai people form circles and jump very high in air as a kind of dance related to that of Karimojong people in Uganda's Kidepo Valley National Park. You will see them eat consume raw milk, meat and blood of cattle, and see their small houses constructed with mud, cow dung, grass and sticks before you return to the lodge for dinner and overnight.

Day 4- Transfer to Naivasha National Park
After your delicious breakfast, you say goodbye to Maasai Mara and head out for Naivasha which will take you up to lunchtime to reach with your lunch waiting for you, you refresh and dive into eating. Note that Naivasha has a fresh water body considered to the second largest lake in the western Rift valley. Accommodation option- Lake Naivasha Sopa Lodge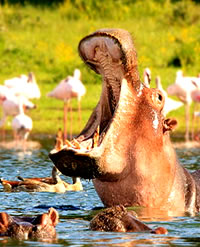 Day 5- Game drive in Lake Naivasha National Park
After your morning breakfast you head out for a morning game drive in serach for the park's beautiful game and bird viewing. Kongoni Game Sanctuary, a privately owned ranch is located in the area which is a home to lions, leopards, cheetah and some trans-located Gravy's zebras. Enjoy a photographic moment in this birding paradise with an estimated 450 species of recorded birds in the area and return to the lodge for lunch.
Depending on you, you can decide to spend the rest of the evening resting, enjoying a boat ride or take a walking safari at the crescent Island as you enjoy the coolest breeze from the fresh waters watching the hippos rest in it then return to the lodge for your dinner and overnight.

Day 6- Walk with the Animals at crescent Island and depart for Nairobi
Combined with the boat safari after your breakfast, a visit to the Crescent Island Sanctuary gives a rare chance to naturally and normally walk with the animals. The island sanctuary is consider home to no predators, so it is confirmed you can safely use your own two feet as you freely wander alongside zebras, giraffes, and wildebeests and return to the lodge for lunch and prepare to say goodbye to Naivasha reaching Nairobi in the evening!

END OF SAFARI

Safari include: Airport transfers and assistance, Private Transport while on safari in Kenya, Drinking Water during the safari (in the vehicle), Full board accommodation at the lodges in Kenya, Park fees
To inquire or book the Kenya safari adventure online, simply send us an email to info@nairobicarrentalservices.com or call us on +254-713510387 to talk to our reservation team.
.