Watamu Marine Park Tour

Watamu Marine National Park is one of Kenya's oldest marine parks established in 1968 by the Kenyan government 90 miles north of Mombasa, Kenya's second largest city. The park's soft and hard coral reefs provide adequate nutrients for an estimated 500 fish species in the main park and over 1000 in the reserve. Llarge marine animals include; the manta rays, whale sharks, octopus and barracuda and the endangered sea turtles like Green, Hawksbill and the Olive Ridley turtles.
Snorkeling and diving are the major water activities in this Kenyan marine park with the best of the underground water sports.

Day 1- Transfer from Nairobi to Watamu Park
The driver guide picks you up from the hotel, residence or Jomo Kenyatta International Airport to start on your safari to Mombasa then move north of Mombasa on the Malindi highway reaching the marine park late in the evening. You check-in to your hotel or lodge to refresh, dine and overnight.
Accommodation option: Gecko Resort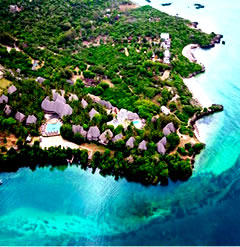 Day 2- Explore Watamu Marine National Park
After your breakfast, you breakout to start your exploration of Watamu which is best known as one of Kenya's and East Africa's best marine parks harboring differently beautiful aquatic ecosystem with an estimated 100 coral types, 600 species of fish and several other marine creatures, making it a favorite underworld destination for snorkelers and divers. Snorkeling and diving are the most commonly carried activities in Watamu among other sports like Deep Sea fishing. All these activities will keep you nourished in the water till lunchtime.
After your delicious lunch, you get into Malindi Marine National Park to experience its aquatic attractions and you go for a nature walk in the mangrove forests of Mida Creek a stone throw away from the beach shore with a unique network of coral that is teeming with some of the ocean's most attractive creatures like the grouper, damselfish, lionfish, octopus, parrotfish and moray among other species. You are then returned to the lodge or hotel for dinner and an overnight.- Accommodation option- Mida Creek Eco Camp

Day 3- Visit Watamu, blue lagoon and turtle bays then depart for Nairobi
On this 3rd day, wake up to your breakfast and head to the beautiful shoreline containing some of the best white sand beaches in the world with natural flora and fauna. The Watamu, blue lagoon and Turtle bays collectively form the 3 bayed Watamu. You then will have your lunch en-route reaching Nairobi late in the evening but you won't have to worry about your drop off to your respective hotel, residence or airport because our representative got you covered.
END OF MARINE TOUR
To inquire or book a a tour to Watamu marine park today, simply send us an email to info@nairobicarrentalservices.com or call us now in +254-713510387 to talk to our reservation team.