8 Days Kenya Birding Safari
The 8 days birding safari in Kenya takes to some of the top bird sites including Nairobio , L. Magadi, L. Naivasha, L. Nakuru, L. Baringo, Samburu park and ends with tour to Mountain Kenya. Check out the itinerary and get back to us to book or request a price quote.

Day 1- Bird watching in Nairobi city
Our driver guide picks you up from you place of residence after you have had your breakfast and head out for a Nairobi tour with your picnic lunch prepared, you will pay a visit to the National Museum bird's gallery for a lecture on birds before nightfall and you are taken into a hotel for dinner and an overnight.
Accommodation - Parklands Shade Hotel


Day 2- Nairobi to Lake Magadi
After breakfast you get out of Nairobi and drive south of Kenya with a picnic Lunch to Lake Magadi located amidst Southern Kenya's Masai land covering an area of 104 sq. km Soda Lake completely surrounded by vast natural salt flats. These sweltering plains prevent any animals from reaching the alkaline lake at its center. For this reason, thousands of flamingos descend on the Lake each year to feed on the algae at the shores of the lake. Near the lake there is a Soda Plant and a Soda Train to transport soda ash to the plant for processing. Freshwater springs at the shores of Lake Magadi attract several bird species like the regular of this lake the Chestnut Banded Plover, Common Sandpiper, Common Greenshank and Wood Sandpiper among others. All these bird species will give a great birding experience at Kenya's salty lake with pink waters, be sure to showcase your photography expertise before returning to Nairobi late in the evening for dinner and overnight.
Accommodation option- Lake Magadi Tented Camp


Day 3: Nairobi – Lake Naivasha
After breakfast we depart from our Nairobi hotel for yet another marvelous drive this time round travelling North of Nairobi ending up on Lake Naivasha. Prior to reaching our destination, your stopover will be at the Great Rift Valley for breathtaking views and photography reaching Lake Naivasha around 1100hrs. As you wait for time to enjoy your lunch, you will take a bird walk along the shores of Lake Naivasha with over 450 species believed to be in existence. In the afternoon, you can opt to take a boat ride to spot the hippos and crocodiles or a visit to Hell's Gate National Park and look out for the park's game before retiring to the lodge for dinner and overnight.
Accommodation option- Lake Naivasha Sopa Lodge


Day 4- Lake Naivasha to Lake Nakuru National Park
Early in the morning after breakfast, you say goodbye to Naivasha and set off for Lake Nakuru National Park, regarded by birders as the greatest World ornithological spectacle on Earth. The park is famous for its multiple pink flamingoes, arriving by mid morning at Lake Nakuru with a game drive en-route before checking-in at the lodge.
In the afternoon you head out for a game drive in search for animals like the warthogs, baboons and large mammals like black and white rhinoceros introduced in a rhino sanctuary and Rothschild giraffes will be some of the game to spot. You will have an outstanding chance to watch birds like African fish eagle, Great white and Pink Backed Pelicans, Green wood hoopoes, and Cliff Chat which will grace your photographic moment and you are returned to your lodges for dinner and an overnight.
Accommodation option- Sarova Lionhill Lodge

Day 4- Birding in Lake Nakuru National Park
After an early breakfast, you step out to spend the whole day bird watching at the park taking many photographs as many as possible. By chance, you may spot the lions, leopard and hyenas returning from a night's hunt before you are returned for lunch at the lodge.
In the afternoon you spend time relaxing before resuming the late afternoon game drive in search for the game and birds you did not see during the day before nightfall.
Accommodation option- Sarova Lionhill Lodge


Day 5- Lake Nakuru to Lake Baringo
In the morning after breakfast you embark on your trip North wards to Lake Baringo, which is 130 square kilometers wide arriving at around 1100hrs to enjoy a bird walk around the lodge as you wait for lunch. Lake Baringo's fresh water has a spectacular bird life species like the Brimstone Canary, Bristol Crowned Starling, White Faced Scopes Owl, Goliath Heron, Little Weaver, Jackson's and Hemprich's Hornbill.
After a delightful lunch, you will climb down to the cliffs to look out for the white faced Scopes owl, Black throated barbet, mouse collared tit and other attractive bird species before retiring to the lodge late in the evening.
Accommodation option- Tumbili Cliff Lodge Limitted

Day 6- Lake Baringo to Samburu National Reserve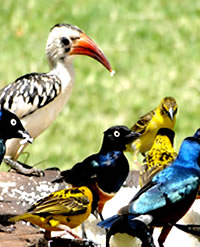 After breakfast in Baringo you set off direct to Samburu National Reserve, a place full of endless skies, dust-red plains and palm-fringed rivers on the vast and arid desert initially known as the Northern Frontier District. Physically dramatic, the 104 sq kilometers landscape of the Reserve has rocky battlements, craggy scarps, dry river beds and fallen boulders rising out of the thorn scrub against a backdrop of the far-distant hills and the great red table mountain known as Lololokwe. Samburu National Reserve has one of the few sanctuaries in Kenya providing protection to the endangered Grevy's zebra, the rare Beisa Oryx, the long necked antelope "Gerenuk" and the Blue-shanked Somali ostriches, the large herds of elephant graze around the hills during the day before and they head to bathe on the banks of the river late in the evening.
Bird species like Somali and white throated bee-eaters, golden pipit, Vulturine guinea fowl, White headed Mouse bird, Buff Crested Bustards, Black capped Social Weaver, Donaldson-Smith's Sparrow Weaver, Golden Breasted Starling among other dry land species freely fly around the park's skies. Your delicious lunch will be at the Town of Nanyuki before proceeding to the reserve arriving at the time for an evening game and bird viewing prior to checking-in at your lodge.
Accommodation option- Ashnil Tented Camp

Day 7- Samburu National Reserve – Mt. Kenya National Park
After your early breakfast, you check-out and head for Mount Kenya National Park, which has Kenya's highest and Africa's 2nd highest mountain after Mount Kilimanjaro where you will spend the whole day birding in the Montane forest region which harbors rare bird species that include; Green Ibis, Lesser Spotted Eagle, Harrier Hawk, Rufous Sparrow hawk, Ayre's Hawk Eagle, Black stork, Red Fronted Parrots, Green Ibis Common snipe, Mountain Buzzard, Bronze napped pigeon Mountain white-eye, Abbots Starling, Sharpe's Starling, Mountain Oriole and Thick-billed seedeater before you head to the lodge for dinner and overnight.
Accommodation option- Naru Moru Campsite


Day 8- Game Drive in Mt. Kenya National Park and Departure to Nairobi
After breakfast, head out for a three hours morning game drive to experience the park's game that include the elephants, bushbucks, elands and waterbucks among others, and you will also spot some of the 130 bird species recorded to be here. You then leave the park and embark or your departure journey to Nairobi with lunch en-route reaching late in the evening. You will be delivered to your hotel, residence or airport.
END OF BIRDING ADVENTURE
To inquire or book a birding safri in Kenya, simply send us an email to info@nairobicarrentalservices.com or call us on +254-713510387 to talk to our reservation team.