1 Day Nairobi City Tour
Nairobi is the capital and largest city of Kenya founded by the colonial authorities in the British East Africa as a rail depot on Uganda railway and the town massively grew replacing Machakos as the capital of Kenya in 1907. The name Nairobi was derived from a maasai phrase" Enkare Nyrobi" which means "cool water" referring to Nairobi River flowing through it and Nairobi City occupies 696 square kilometres (270 sq mi) harboring an estimated 100 international companies and organizations including United Nations Environment Programme and United Nations Office at Nairobi.
So your 2 days Nairobi City Tour will start from:
Nairobi National Museum- Kazuri Beads Factory-Karen Blixen Museum then Bomas of Kenya
Nairobi National Park- David Sheldrick Wildlife Trust then end it up by visiting the Giraffe Center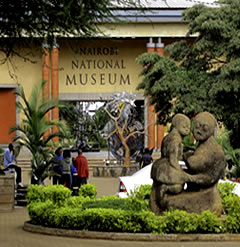 Day 1- Nairobi National Museum- Kazuri Beads Factory-Karen Blixen Museum then Bomas of Kenya
After your early breakfast by 0700hrs, our representative picks you up from your hotel, residence or airport to start off your Nairobi City tour beginning with Nairobi National Museum for you to view displays of different cultural and natural historic exhibits with an estimated 900 stuffed birds and mammals, fossils from Lake Turkana, ethnic displays from various Kenyan tribes, and local art. In the Geology Gallery, visitors can study beautiful collection of rocks and minerals then learn about tectonic plates and the volcano life cycle plus the bird gallery. You will spend about 2hrs viewing and studying the objects.

At 1030hrs, you get out of the museum and head for Kazuri Beads Factory which is a fair trade success story in Nairobi since 1975, the year of its establishment by Kazuri who was the brainchild of Lady Susan Wood, an English descendant. In the Swahili dialect, "kazuri" means "small and beautiful" and Kazuri Beads Factory started with two native women as employees and later expanded to employ an estimate of 300 women manufacturing about 5 million beads by hands annually, exporting them to over 20 countries and some women have reportedly started pottery with the exact designs. You will spend 2 hours in this factory en-route Karen Blixen estate better known by her author name, Isak Dinesen, Karen Blixen is the female writer behind the colonial-era love story Out of Africa. Her historic farm, located at the foot of the Ngong Hills just outside Nairobi, was the setting for her interesting story of a broken marriage, cross-cultural romance and adaptation to a new foreign land. The museum, which is named after her explores her life within the Kenya's rich history, is permanently located on a piece of the original 4,500 acre plantation where scenes from the movie were captured.
It is lunchtime and time for you to head to Bomas of Kenya, the living museum of Kenya for an African entertainment where you will grab a picnic lunch to meet time for the start of cultural performances. The place is a tourist village in Langata, Nairobi established in 1971 by the Kenyan government and is considered to be a living museum by Kenyans and its visitors because of the impressive cultural dances and songs performed in the large theatre giving guests delightful experiences especially about lifestyle, Art, music, crafts, and culture of each Kenyan tribe forming a recreational and traditional village with homesteads or bomas each depicting the culture of major ethnic groups. You will spend the entire afternoon deepened in African performances through dancing, folk singing and storytelling among others till you are taken to a hotel for dinner and an overnight.
Accommodation - The Headquarters Inn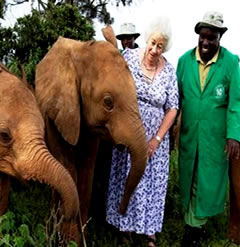 Day 2- Nairobi National Park- David Sheldrick Wildlife Trust then Giraffe Center
On your 2nd after a delicious breakfast, you head out early enough to Nairobi National Park which is Kenya's first park just 7 kilometers away from skyscrapers in Nairobi's City centre with a rhino sanctuary protecting over 50 endangered rhinoceros and other wildlife animals in the park including the lions, buffaloes, elephants, cheetahs, warthogs and gazelles not forgetting over 400 bird species reported in the wetlands. You will go for an early morning game drive then by 1030hrs you move to Sheldrick Wildlife Trust just at the entrance of the park which is open for one hour daily from 1100rs to noon. This wildlife center was founded by Daphne Sheldrick in memory of her late husband David Sheldrick in 1977 to protect the orphaned elephant and rhino calves under the rescue and rehabilitation program which later sees these wild animals released into the national parks when grown up and healthy. While in the center, visitors can watch while the calves drink from giant baby bottles and all collections received at the entrance are directed towards the conservation efforts. You then go for your lunch, relax a bit and drive to the Giraffe Centre situated at the edge of Nairobi National Park where visitors can directly face the endangered Rothschild's giraffes and has a Giraffe Manor with a sole mission to provide conservation education for children. The visitor center displays information about these beautiful creatures, and a raised platform allows you to feed them at face level with specially prepared pellets. This is one of the most popular things to do from Nairobi, especially with children and after bonding with these beautiful giraffes, visitors can experience a self-guided forest walk in the nearby nature reserve. This will mark the end of your Nairobi City Tours and the driver will drive you back to your hotel, residence or airport.

To book or inquire about a tour in Nairobi city, you can contact us today through info@nairobicarrentalservices.com or call us +254-713510387 to speak with the reservations team.